Welcome
"When a country struggles for tourism the way many in Africa have in the last 18 months, there is something special that comes out of that journey – innovation. Over the last decade, the resistance to poaching and the need to preserve indigenous cultures became so strong that the notion of community-based conservancies was born. It was pioneered in countries like Namibia and Kenya. That same idea spread like wildfire into Tanzania, where the commitment to the conservancy model of safaris is not thriving. We hope that the cliché of the mass of tourist buses surrounding animals and Maasai villages that are more like gift shops become a thing of the past. This safari is an example of what the future of safaris in Tanzania will look like in the years to come. Why wait for the future when it can be your present."
-Ashish Sanghrajka
Day By Day Itinerary
Day 1: Kilimanjaro / Arusha, Tanzania
Evening arrival in Arusha. Proceed through Immigration, and collect your baggage and proceed through Customs. After exiting Customs & Immigrations Hall, please for a uniformed Big Five Tours & Expeditions Driver/Guide holding a Big Five Tours sign with your name or tour name on it. The guide will assist you with your luggage and transfer you to Arusha Coffee Lodge. Located in the northern highlands of Tanzania, beneath the twin peaks of Mt. Meru and Mount Kilimanjaro, Arusha is the safari capital of the country. Guests embarking on the popular northern safari circuit all stop in the 'Geneva of Africa' to prepare for their journeys into the African bush. From its two-lane streets, the dramatic crater of Mt. Meru stands over the town like a majestic sentinel, its crater strewn with thick clouds, its slopes dark with verdant forest. Arusha's ideal location near the major national parks and its highland setting make it a peaceful idyll of relaxation before the start of an exciting journey. Built by the Germans as a center of colonial administration in the early 20th century, Arusha was a sleepy town with a garrison stationed at the old boma and a few shops around a grassy roundabout. From its backwater status amidst the farmlands and plantations of northern Tanzania, today Arusha is one of the country's most prosperous towns. The site for the United Nations Criminal Tribunal on the Rwandan genocide and the headquarters for the tripartite commission for East African Co-operation, Arusha is a major center of Tanzanian diplomacy and international relations. Arusha Coffee Lodge – Plantation Room
PLEASE LIMIT LUGGAGE WHILE ON SAFARI TO ONE (1) PER PERSON, MAX. 32lbs, PLUS REASONABLE CARRY ON CAMERA EQUIPMENT.
Day 2: Arusha / Burunge Wildlife Management Area
After breakfast you are met and transferred to the local airport for your flight on Air Excel to Kuro airstrip in Tarangire. You are met by camp staff on arrival at the airstrip and transferred to camp.
Known as the sunrise camp, Little Chem Chem is situated on the edge of an acacia forest. The camp is surrounded by the characteristic landscape of the Tarangire River with its impressive baobab trees and overlooks the freshwater lake, Lake Burunge. The Babati Mountain Range offers a magnificent backdrop to the southwest, with the distant hills of Tarangire visible to the northeast. The atmosphere at Little Chem Chem is welcoming, elegant and oozing authenticity of a bygone era. The luxury of sharing 16,000ha with only ten guests sets the ideal stage where you can perfectly blend into the wilderness.
Lions roam the camp and call each other at night; stately elephants march down to Lake Burunge to get a sprinkling of fresh water; cheetahs hunt on the plains facing the lake; leopards, eland and lesser kudu can be seen in the more dense woods in the inner part of the concession. And wherever there is water, the bird life is abundant and colorful. Little Chem Chem's intimate, elegant but authentic atmosphere, is the ultimate setting from which to explore Africa on foot. Slow down and indulge in a sensual vintage safari. Little Chem Chem -Tent (B/L/D)
Days 3/4: Burunge Wildlife Management Area
The concept of a "slow safari" was born at Chem Chem out of a deep passion for the African bush. It is very easy to get caught up in the 4×4 'rush hour' in a fevered quest to spot the 'Big Five', however, true safari aficionados understand it is what you discover yourself – and sometimes about yourself – outside the vehicle, that counts. In essence, a slow safari allows you to experience Africa at its most raw – it is a tangible, sensual experience beyond the confines of a vehicle, where you can, on foot, see, feel, touch and smell the African bush.
Some experiences that form part of Chem Chem's slow safari ethos include walking safaris with a private guide in Chem Chem's 4,000 hectare private wildlife concession, learning to read wildlife tracks and spoor, wilderness picnics, visiting Maasai villages, dining under the stars or simply taking the time to sit and absorb the expansive Tanzanian landscape with a glass of Pinot Noir in hand. In the Chem Chem Wildlife Concession the action simply never stops: from majestic elephants, agile tree-climbing lions, to giraffe, wildebeest, warthogs, zebras, impalas, aardvarks, hyenas each taking their turn at the various water holes.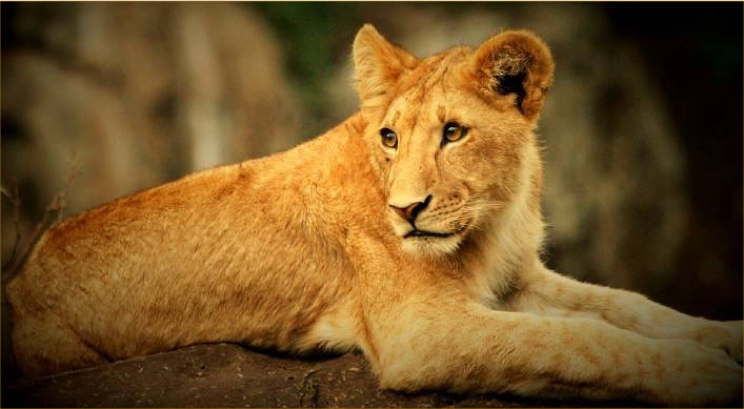 The Tarangire Valley is famous for its large density of elephants and its giant baobab trees. You can track down groups of giraffe in the palm forest, or listen to the cheeky chatter of baboon and other primates. Lions roam around the Little Chem Chem at night; cheetahs hunt on the plains facing the Lake Burunge; leopards, eland and lesser kudu can be seen in the more dense woods in the inner part of the concession and with over 300 species of birds, including pelican, storks and, of course, lesser pink flamingos, the bird life is abundant and colorful. Little Chem Chem -Tent (B/L/D)
Day 5: Burunge Wildlife Management Area / Serengeti National Park
This morning you are transferred back to the airstrip at Lake Manyara to Mwiba Airstrip in the
Serengeti. You will be met by a Mwiba camp guide on arrival at the airstrip. You enjoy a game drive to your next accommodation. Mwiba Lodge is located in a private wildlife reserve, which lies to the north of the Lake Eyasi Escarpment, within the greater Serengeti ecosystem. Your location in a private concession ensures that you have exclusive access to the camp and the surrounding wilderness and you can also enjoy walking safaris, which are unavailable in the neighboring national park. It is a sophisticated, secluded haven among massive stone boulders, ancient coral trees and acacias, overlooking a rocky gorge on the Arugusinyai River. Set in harmony with this idyllic natural backdrop, Mwiba offers an unmatched experience in luxury adventure.
This exclusive destination mixes both traditional and modern design elements, creating an inviting, sophisticated hideaway. The interiors artfully integrate the natural surroundings with layer upon layer of textured creams paired with suede, tans and accents of chocolate and charcoal.
From the linen-dressed, slope-armed sofas to ornately carved wooden leg tables and cascading lighting, the eight double suites all give way to a wide-open layout where each room flows to another. The bathroom brings the outdoors inside with traditional canvas walls accented with copper fixtures, large soaking tubs with private outside showers, all with transporting views from hardwood plank decks. The grey slate-lined infinity-edge pool overlooks three springs where guests can enjoy the sights and sounds of a constant parade of wildlife. Vast and privately controlled, this exquisite 51,000 acre wildlife reserve is vibrantly lush with color-infused botanicals, 33 freshwater springs and a diverse Array of wildlife. Mwiba Lodge - Suite (B/L/D)
Days 6/7: Serengeti National Park
Spend your days on game drives, doing bush walks deep into the landscape and savor cultural excursions to the local tribe's village. These magical experiences begin at Mwiba, where a world of adventure awaits. Game drives in the Serengeti give you an opportunity to seek out a wide variety of wildlife with the largest concentration of mammals and over 2,500 lions. Spend time exploring one of the rarest and most captivating ecosystems in the world with your private guide on foot or in an open vehicle. Other activities include bush meals, star gazing, sundowners and painted cave visits. Mwiba Lodge – Suite ( B/L/D)
Day 8: Serengeti National Park
After breakfast, you will be transferred back to Mwiba airstrip for your Tanganykia Air flight to Seronera airstrip in the central Serengeti. Your guide from Namiri Plains camp awaits you at the airstrip and then you head to your next stop. En-route you catch up with the migrating herds of wildebeest and zebra. Namiri Plains is located where the southern short grass plains meet the acacia woodland.
The Ngare Nanyuki underground river creates pockets of permanent water that support year-round concentrations of wildlife. With easy prey available throughout the year there is more than enough big cat activity here and the dramatic rocky outcrops that dot the plains serve as excellent observation points for cheetah, lion and leopard on the lookout for prey.
The rains bring the Great Migration from October to May when the eastern plains are blanketed with new grass. As far as the eye can see, the plains are filled with wildebeest and zebra.
From December to January, Namiri Plains is the center stage for explosive action as the big cats feast on the abundant prey. Sightings of wildebeest being brought down, voracious feeding sessions as well as the inevitable disputes between the apex and lesser predators, around the carcass, provides fascinating viewing and outstanding photo opportunities. The standard of comfort at Namiri Plains is nothing short of superb. To minimize the impact on the environment the camp comprises of only eight tents with en suite bathrooms, flush toilets, super-soaking bucket showers, snug beds and a well-stocked bar. Pitched in the shade of giant acacias, this small and exclusive tented haven offers 360° views of wildlife crossing the surrounding plains, the river with its perennial vegetation and dense green reed beds attract birds and smaller wildlife species. Namiri Plains Camp – Tent (B/L/D)
Days 9/10: Serengeti National Park
Namiri Plains Camp was created for serious safari enthusiasts seeking comfort and exclusivity in secluded surroundings, excellent guiding and a deeper, more intense wildlife experience. Explore this remarkable ecosystem on daily game drives; enjoy sunrise breakfast picnics on top of Soit Le Motonyi rock or sundowners on top of a kopje. Namiri Plains Camp – Tent (B/L/D)
Day 11: Serengeti National Park / Arusha / Depart
Your final morning game drive ends at Seronera airstrip where you board the regional air flight back to Arusha. You are met on arrival and transferred to Arusha Coffee Lodge for a late lunch and a dayroom. This afternoon you have time to visit the Cultural Heritage Center for some last-minute shopping. Then it's Kwaheri to Africa (a Swahili goodbye) as you transfer to the airport for your outbound flight. Arusha Coffee Lodge – Dayroom Plantation room (B/L)
Included In The Tour Cost:
Hotel accommodations as indicated in the itinerary, including taxes and service charges
Meals as indicated (B-breakfast, L-lunch, D-dinner)
Services of an English speaking guide during all included excursions on a shared basis
All transfers in an air conditioned vehicle
Entrances at parks, sites, and monuments
Comprehensive assortment of pre-tour materials and amenities
Big Five's 24-hour White Glove Service® guest assistance
Complimentary one year membership to One More Generation, including adoption of an endangered species
Not Included In The Tour Cost:
Any international airfare; Any passport or visa fees; Travel insurance (which is strongly recommended); Excess baggage fees; Items of a personal nature; Telecommunications fees; Laundry services; Gratuities to guides, drivers, and porters; Meals and services not specified
Other Information
Prices are for land only, double occupancy.
The Big Five Edge
At Big Five, you are working with one of the most experienced groups in the travel industry. Our Destination
Specialists receive 900+ hours of in-destination and in-office training annually; and have a combined average 20 years' experience in travel.
Big Five is in the top one percent of luxury tour operators to place on Travel+Leisure magazine's A-List. Our Destination Specialists have appeared on this distinguished list of top travel professionals from 2009 to 2015. This list validates the value of experience. This recognition is achieved by going through unbiased questioning
and itinerary planning, and it is not based on voting by magazine subscribers.
White Glove Service® Guest Assistance
Big Five provides a personal experience that begins with a live person answering each call promptly during business hours. Our 24-hour White Glove Service® guest assistance desk is manned by a team of specialists available 365 days from anywhere in the world. WGS® is your:
Personal concierge service for anything from dinner reservations to hard-to-get special event tickets.
Assistant to relay messages to family and friends, to help arrange private air charters and other details.
Emergency specialist who is there to tackle any emergency situation from lost luggage to stolen passports to emergency medical assistance Information kiosk for all the latest news, weather, airline delays; whatever information you need to make your journey run more smoothly.
Organizer who can coordinate special events such as a birthday or anniversary dinner, flowers or gifts.
Our Destination Specialists combine creativity with their impressive knowledge to customize clients' journeys to meet each guest's interests, whether that is honeymoon couples, families or special interest groups.
Big Five guests benefit from our partnerships with properties and suppliers who have strong sustainable ethics built into their operations, which assures each guest will experience the best a destination has to offer. As part of our commitment, we employ local professional guides and drivers in each destination; and we support local initiatives dedicated to cultural preservation and habitat conservation.