Welcome
"I've traveled to the furthest corners of India ever since I was a child, and have always been in love with the country, its history, and its politics. For a long time now, I have felt that India had all the tools to be truly great, if it would just get out of its own way. That applies especially to tourism. For years, every commercial and magazine article talked about palaces and grand monuments. All integral parts of India, however, hardly the complete story. I began to look for community involvement – an integral component to the equation of authenticity. I was disappointed with the answers I received. Where was the value, where was the authenticity? Many seemed reluctant to explore new ideas. I want to introduce you to the India I know such as in this itinerary where we take you to Haridwar, closer to the source of the sacred Ganges River, where the water flows clean. You witness an aarti ceremony in the evening along the river, where prayer ceremonies are performed with passion, not for tourism's sake. Indeed, you'll find few tourists here. This is the authentic North India I want to share with you."
-Ashish Sanghrajka
Day By Day Itinerary
Day 1: Delhi, India
Upon arrival, after clearing immigration and customs, you will be met by our airport facilitation staff carrying placard of your name in visitor's arrival hall. You will be greeted and transferred to your hotel with necessary assistance. The Oberoi Delhi – Premier Room
Day 2: Delhi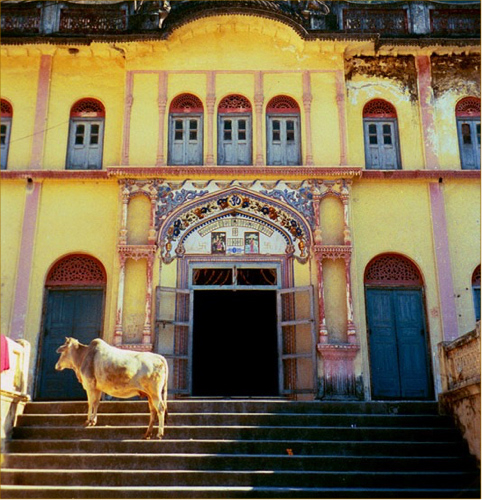 This morning, venture out on a bicycle to explore old Delhi with all your senses. This afternoon, enjoy a unique Heritage Walk to learn about the Street Food of the city. Shahjahanabad, now known as Old Delhi, was a city established by the Mughal emperor Shahjahan in 1648. It was considered a gem of the empire and continues to be the heart of the capital as well. The average middle class urban Delhi resident has acquired a global palate and is familiar with cuisines from across the world, with a profusion of European, Asian, American and Mediterranean food options. Yet, locals return to Old Delhi for their fill of satisfying street food, best enjoyed in its original setting – the noisy labyrinthine of lanes in the Chawri Bazaar and Chandni Chowk, where golden Gurudwaras share space with historic mosques. Your guide will introduce you to the flavors of Old Delhi. The Oberoi Delhi – Premier Room (B)
Day 3: Delhi / Dehradun / Narendra Nagar – Ananda
Today, you are transferred to Delhi airport in time to connect flight to Dehradun. Upon arrival, you will be welcomed by the airport facilitation staff and transferred to Narendra Nagar. Upon arrival, check in to your hotel. Later, enjoy an exciting zipline adventure (subject to operation) at Rishikesh, and experience unforgettable views as you soar above the river.
This evening, enter the spiritual center of India to take in the daily Aarti Ceremony at Parmarth Ashram. The sunset Ganga Aarti at Parmarth Niketan draws between hundreds and thousands of Hindus each day. Regardless of one's religion or ability to understand Hindi or Sanskrit, the power of the Aarti is universal. The Ganga Aarti transcends the borders and boundaries of language and culture, diving straight into one's heart. The Ananda In The Himalayas – Valley View Room (B)
Day 4: Narendra Nagar – Ananda
This morning, you can enjoy a yoga or a meditation session at hotel if you like. Then, visit the Rishikesh Ashrams. Most of the pilgrims who pass through Rishikesh pause here for a holy dip and puja at Triveni Ghat before traveling on to the Himalayan shrines of the Char Dham. There are a number of ashrams in and around Rishikesh, where rishis (saints) stay. Some of the ashrams are situated on the eastern bank of the Ganges River and the entire cluster is known as Swargashram. Maharishi Mahesh Yogi's Ashram is famous the world over because the Beatles visited there. People come from far and wide to study yoga here. The area also has some temples that have some mythological importance.
This afternoon, travel to Haridwar. Here, the sacred Har-Ki-Pauri Ghat was constructed by King Vikramaditya in the memory of his brother Bhartrihari. The golden reflection of flowers floating in the Ganges is enchanting in the twilight during the Ganga Aarti ceremony at the ghat. Haridwar abounds with Hindu temples and ashrams. More than the architectural designs, the spiritual ambience of the place is striking. Kankhal has several other temples and ashrams as well. The Sapt Rishi Ashram is situated along the Haridwar-Rishikesh road. The Ganges River flows in seven streams in front of this ashram. The Kanva Rishi Ashram is some 42 km from Haridwar on the banks of the Malini River. Other important places to visit are the Bharat Mata Temple, Maya Devi Temple, Bhimgoda, and Shanti Kunj. This evening, you witness an Aarti ceremony along the river. Here the crowds are larger than in Rishikesh, and one glance reveals that you have left the tourists behind and are now among locals. The Ananda In The Himalayas – Valley View Room (B)
Day 5: Narendra Nagar / Dehradun / Delhi / Agra
This morning, you will be transferred to Dehradun airport in time to connect flight for Delhi. On arrival, you are met by our airport facilitation staff and driven to Agra, three hours approx.). Upon arrival, check in at your hotel. If you arrive in time, you will savor a sunset tour of the fabled Taj Mahal. At hour hotel, every room overlooks the Taj Mahal. We have arranged for rooms with balconies for you, which allow you to experience early morning with coffee on the balcony as priests chant nearby. The Oberoi Amarvilas – Premier Room With Balcony (B)
Day 6: Agra / Jaipur
If you missed the sunset, you can get up early for sunrise. Following breakfast, visit Agra City, also famous for the impressive Mughal Red Fort, known as the Agra Fort. This is the story of the Mughal Empire in stone. Built by Emperor Akbar and successively enriched with palaces and marble pavilions. The highlight of the day is still the famous 17th-century masterpiece Taj Mahal, which some consider most perfect architectural tomb in the world. It was built in the memory of the beloved wife Mumtaz Mahal of one of the greatest kings Shah Jehan of the Mughal Empire. (Please note the Taj Mahal is closed on Fridays)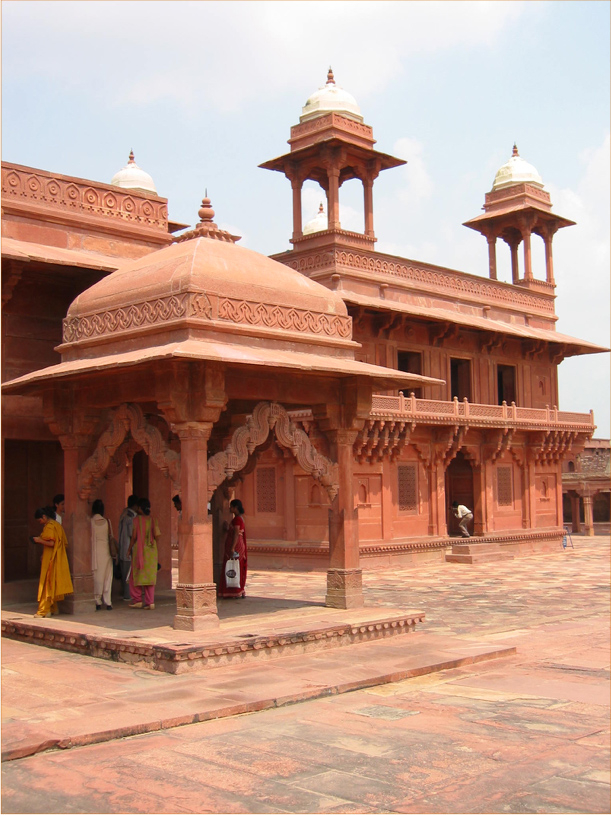 Later, drive to Jaipur (about five hours). Along the way, stop at the fascinating Fatehpur Sikri, (ghost capital) for a tour of these magnificent and world heritage buildings, which are still in a state of perfect preservation. The city was founded in 1569, and served as the capital of the Mughal Empire from 1571 to 1585. The Imperial complex was abandoned in 1585, shortly after its completion, due to paucity of water and its proximity with the Rajputana areas in the Northwest, which were increasingly in turmoil. The city is divided into religious and secular sections. The profusion of sculpture is breathtaking. Also, the white marble mosque in the secular section is incredible. It is a very sacred mosque and pilgrims from far and near arrives here to pay their respects.
After visit, continue your drive to Jaipur. Upon arrival, check in at your hotel. This evening, should you wish, you can return to the inner city for guided walking tour of the open-air bazaars, offering everything from spices to clothes to local medicine. Oberoi Rajvilas – Premier Room (B)
Day 7: Jaipur
This morning, explore the impressive Amber Fort, situated on a ridge just outside the city. Here, you will ride a caparisoned elephant (subject to availability) up to the main gate, making your entrance in the time honored fashion. The fort, completed in the early 18th century, took more than 100 years to build. Now deserted, it offers a fascinating look into the lifestyle of the Moghul ruling families. Then, set out on a heritage walk around the fort, which was a flourishing settlement as far back as 967 CE when the Meena occupied it. This caste claims that they are descended from the Matsya Avatar or the fish incarnation of Vishnu, until it was conquered by the Kachwaha clan of Rajputs.
Older than the famous Amber Fort and palace complex, the now sleepy town of Amber is rarely visited by tourists. This atmospheric ancient town is dotted with historic temples and havelis (private mansions). Explore the town's rich heritage and enjoy the natural beauty of Aravali Mountain Range, a quiet change from the busy activity of the fort.
Finish the day with a visit to an Elephant Camp. Elephants here are protected through positive reinforcement animal management principles, and as a result, it provides us with the unique opportunity to interact with them. Learn about the world of these magnificent creatures in a setting where you can touch, feed, paint, wash, and get to know these gentle giants. Oberoi Rajvilas – Premier Room (B)
Day 8: Jaipur / Jojawar
Today, you travel by road, about six hours, through the interior of Rajasthan to Jojawar. Along the way, you can ask your guide to stop for photos. Upon arrival, check in at your hotel, a heritage hotel that is part of 150-acre estate and has only ten rooms. Enjoy the facilities including a spa with a steam room, Jacuzzi and a gym. Activities offered include vintage car drives, train safari through the Aravallis hills, and horseback riding on Mewari horses. There is also excellent bird watching here, with rare species such as blue throated and Asian paradise flycatcher, white eyes and red starts, silver bills and Prinias. Keshar Bagh – Luxury Room (B/L)
Day 9: Jojawar
This morning, you enjoy an excursion by local train between the cities of Jodhpur and Udaipur, up the scenic Kambli Ghat Pass, the highest station in the Aravallis. The engine laboriously and slowly pulls the train through the most beautiful forests and hills during its one-hour trip. Train travel is the most common means of transport in India. Your guide will be with you help start a conversation with one of the local residents, mostly rural farmers – most will not speak English, but are eager to meet you.
This afternoon, you go on Jeep safari into the countryside around Jojawar, with its interesting landscapes – the Aravalli Hills in the east, and broken rocky hills interspersed with farms and scrub forests all around. The pre-Cambrian Aravalli Hills are one of the oldest mountain ranges of the world. The camel herding Rabaris are an ethnic group that are only found around Jojawar. Keshar Bagh – Luxury Room (B)
Day 10: Jajowar / Mihirgarh
After breakfast, drive to Mihirgarh, about two and a half hours. Upon arrival, check in at your hotel, on the edge of the real Thar Desert, where you can discover the distinctive landscapes and local culture. This afternoon, you have an opportunity to go on a short camel safari into the desert. Mihirgarh – Alishaan Suite (B)
Day 11: Mihirgarh
Today, enjoy a second Jeeps safari. Visit a local village to capture the very pulse of rural Rajasthan. Meet members of the community and visit their mud brick homes and engage with the turban-clad men and the shy, beautiful women in their traditional dress. See the market and experience the rich, vibrant cultural heritage at Mihir Garh before heading with your guide into Jodhpur for a tour of the city's main highlights. Mihirgarh – Alishaan Suite (B)
Day 12: Mihirgarh / Jodhpur / Mumbai
Following breakfast, you will be transferred to Jodhpur airport in time to connect flight for Mumbai. On arrival, you will be received by our airport facilitation staff and transferred to your hotel. Later, you enjoy a guided walking tour of the city, where you are introduced to the everyday life of Mumbai. The Leela (B)
Day 13: Mumbai
This morning, learn about daily life in India. Visit Dhobi Ghat. Unique to Mumbai, the dhobi is a traditional laundryman, who will collect your dirty linen, wash it, and return it neatly pressed to your doorstep. The "laundries," called ghats, are row upon row of concrete wash pens, each fitted with its own flogging stone. The clothes are soaked in sudsy water, thrashed on the flogging stones, then tossed into huge vats of boiling starch and hung out to dry. Next they are ironed and piled into neat bundles. The most famous of these Dhobi Ghats is at Saat Rasta near Mahalaxmi Station, where almost two hundred dhobis and their families work together in what has always been a hereditary occupation.
Meet a Dabbawala, a person in Mumbai, who is part of a delivery system that collects hot food in lunch boxes from the residences of workers in the late morning, delivers the lunches to the workplace utilizing various modes of transport, predominantly bicycles and the railway trains, and returns the empty boxes to the customer's residence.
See the Hanging Garden perched at the top of Malabar Hill, on its western side, opposite the Kamala Nehru Park. These terraced gardens, also known as Ferozeshah Mehta Gardens, provide lovely sunset views over the Arabian Sea. The park was laid out in the early 1880s over Bombay's main reservoir. The Leela (B)
Day 14: Mumbai / Depart
Today, you will be transferred to Mumbai airport in time to connect onward flight (B)
Included In The Tour Cost:
Hotel accommodations as indicated in the itinerary, including taxes and service charges
Meals as indicated (B-breakfast, L-lunch, D-dinner)
Services of an English speaking guide during all included excursions on a shared basis
All transfers in an air conditioned vehicle
Entrances at parks, sites, and monuments
Comprehensive assortment of pre-tour materials and amenities
Big Five's 24-hour White Glove Service® guest assistance
Complimentary one year membership to One More Generation, including adoption of an endangered species
Not Included In The Tour Cost:
Any international airfare; Any passport or visa fees; Travel insurance (which is strongly recommended); Excess baggage fees; Items of a personal nature; Telecommunications fees; Laundry services; Gratuities to guides, drivers, and porters; Meals and services not specified
Other Information
Prices are for land only, double occupancy
The Big Five Edge
At Big Five, you are working with one of the most experienced groups in the travel industry. Our Destination Specialists receive 900+ hours of in-destination and in-office training annually; and have a combined average 20 years' experience in travel.
Big Five is in the top one percent of luxury tour operators to place on Travel+Leisure magazine's A-List. Our Destination Specialists have appeared on this distinguished list of top travel professionals from 2009 to 2015. This list validates the value of experience. This recognition is achieved by going through unbiased questioning and itinerary planning, and it is not based on voting by magazine subscribers
White Glove Service® Guest Assistance
Big Five provides a personal experience that begins with a live person answering each call promptly during business hours. Our 24-hour White Glove Service® guest assistance desk is manned by a team of specialists available 365 days from anywhere in the world. WGS® is your:
Personal concierge service for anything from dinner reservations to hard-to-get special event tickets
Assistant to relay messages to family and friends, to help arrange private air charters and other details
Emergency specialist who is there to tackle any emergency situation from lost luggage to stolen passports to emergency medical assistance
Information kiosk for all the latest news, weather, airline delays; whatever information you need to make your journey run more smoothly
Organizer who can coordinate special events such as a birthday or anniversary dinner, flowers or gifts
Our Destination Specialists combine creativity with their impressive knowledge to customize clients' journeys to meet each guest's interests, whether that is honeymoon couples, families or special interest groups.
Big Five guests benefit from our partnerships with properties and suppliers who have strong sustainable ethics built into their operations, which assures each guest will experience the best a destination has to offer. As part of our commitment, we employ local professional guides and drivers in each destination; and we support local initiatives dedicated to cultural preservation and habitat conservation.